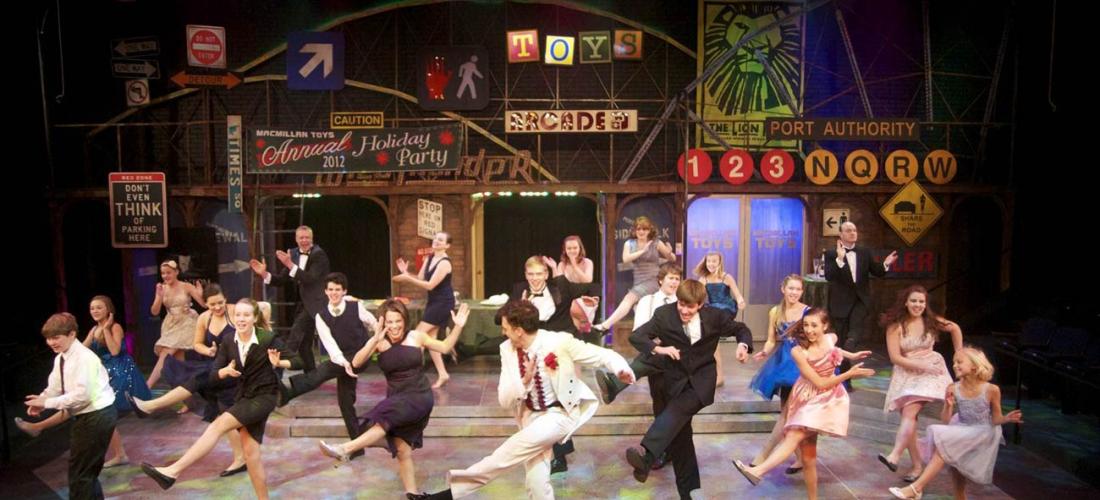 © Visit Milwaukee
Theater Companies
Acacia Theatre Company
12800 N. Lake Shore Dr., Mequon; Independent, non-profit, interdenominational troupe that integrates art and faith in a Christian world view. Three plays and a special Christmas production are offered each year. Shows are presented in the Todd Wehr Auditorium at Concordia University. Telephone: (414) 744-5995; Website: www.acaciatheatre.com.
Boulevard Theatre
The Boulevard Theatre continues to be the "go to" place for the unexpected and entertaining in and around Milwaukee. Boulevard began a cultural eruption when it opened its doors on Kinnickinnic 32 years ago.  The overflow of civic improvement and cultural contributions to both the Bay View neighborhood and the greater Milwaukee community continues to provide fertile soil for new, emerging artists. Various venues throughout the Milwaukee area; Telephone: (414) 744-5757; Website: www.boulevardtheatre.com.
First Stage Children's Theater
325 W. Walnut St., Milwaukee; Since 1987, First Stage has become one of the nation's most acclaimed children's theaters and the second-largest theater company in Milwaukee, offering professional theater for all ages, theater academy training that teaches life skills through stage skills, and theater-in-education programs that promote active learning in schools. The 2018-19 season includes: Matilda, Locomotion, As You Like It, Big River, Tinker Bell, and Miracle Worker. Offers birthday parties and welcomes scout troops and school groups.; Telephone: (414) 267-2929; Website: www.firststage.org.
Milwaukee Chamber Theatre
158 N. Broadway, Milwaukee; Celebrating 44 years! The 2018-2019 season features Sherlock Holmes and the Case of the Jersey Lily, Chapatti, Christmas in Babylon, Strange Snow, Ben Butler and Young Playwrights Festival Showcase. Performances at the Broadway Theatre Center in the Historic Third Ward. Telephone: (414) 291-7800; Website: www.chamber-theatre.com
Milwaukee Repertory Theater
108 E. Wells St., Milwaukee; 65th Anniversary Season! 15 productions across four venues with nearly 700 performances. The Quadracci Powerhouse Theater season includes: In the Heights, Miss Bennet: Christmas at Pemberley, Junk, Things I Know to be True and August Wilson's Two Trains Running. The Stiemke Studio schedule includes: Lost Girl, Guards at the Taj, The Chinese Lady, Rep Lab: Short-Play Festival and Every Brilliant Thing. Stackner Cabaret shows include: Songs for Nobodies, The All Night Strut!, Mark Twain's River of Song, and Ring of Fire: The Music of Johnny Cash. The Rep's production of A Christmas Carol is performed at the historic Pabst Theater. Telephone: (414) 224-9490; Website: www.milwaukeerep.com.
Next Act Theatre
255 S. Water St., Walker's Point - Milwaukee; Next Act engages the hearts and minds of audiences with compelling, intimate, theatre intended to stimulate thought, foster the exchange of ideas, and promote the development of new perspectives and understanding featuring local professional talent. Telephone: (414) 278-0765; Website: www.nextact.org.
Renaissance Theaterworks
158 N. Broadway, Milwaukee; Celebrating more than 25 years as Milwaukee's only women-founded, women-run professional theater company. Intimate, thought-provoking productions that awaken a recognition of what it is to be human with attention to women's roles both onstage and off. The theme for the 2018-19 season is She Blinded Me with Science. Performances at the Broadway Theatre Center. Telephone: (414) 272-0800; Website: www.r-t-w.com.
Skylight Music Theatre
158 N. Broadway, Milwaukee; Performing the full spectrum of professional music theatre from opera to Broadway to musicals. Telephone: (414) 291-7800; Website: www.skylightmusictheatre.org.
Sunset Playhouse
700 Wall Street, Elm Grove; Sunset Playhouse produces eight main stage shows a year - comedies, mysteries, and musicals. The Studio Theatre houses the After Sunset Series with four edgy dramas and musicals. In addition, the Playhouse is home to three professional series: Musical MainStage, with six concerts each season, a six-show cabaret series called SideNotes, and a three-show children's series called bug in a rug. The School for the Arts offers a wide variety of classes and workshops for children ages 3 - 18. 700 Wall Street, Elm Grove; Telephone: 262-782-4430; Website: www.sunsetplayhouse.com.
Theatre Gigante
342 N. Water St., Milwaukee; Over 30 years of innovative performance art dedicated to presentations that integrate theater, dance, text and music. Telephone: (414) 961-6119; Website: www.theatregigante.org.
UWM Peck School of the Arts - Theater
2400 E. Kenwood Blvd., Milwaukee; Presents large-scale dramatic and musical productions in a 525-seat mainstage theatre and smaller, contemporary works at the Kenilworth FIVE-0-EIGHT black box theatre. Telephone: (414) 229-4308; Website: uwm.edu/arts/events/category/theatre.