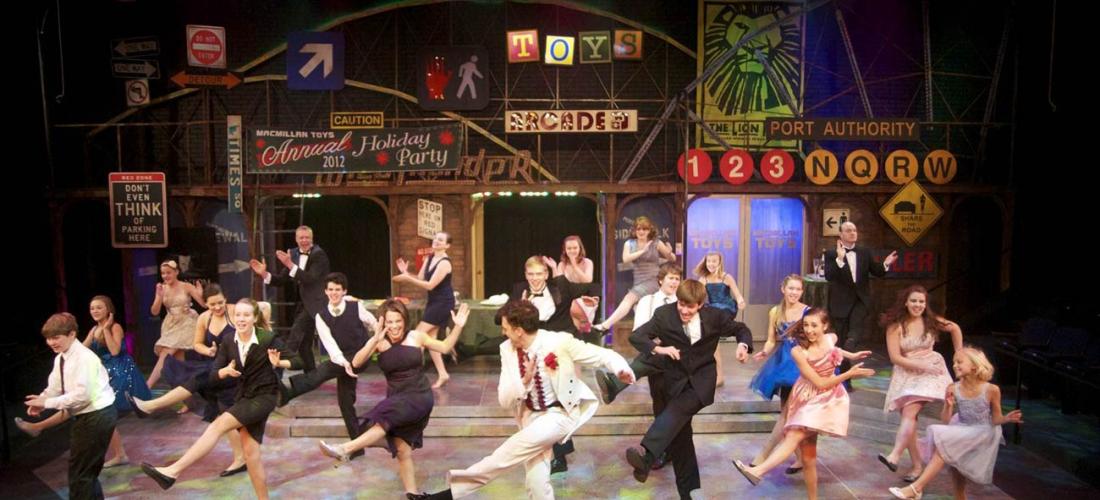 © Visit Milwaukee
Theater Companies
Acacia Theatre Company
12800 N. Lake Shore Dr., Mequon; Independent, non-profit, interdenominational troupe that integrates art and faith in a Christian world view providing opportunities for Christians and non-Christians alike to consider their lives in relation to God. Current offerings include An Inspector Calls and Jane Austen's Sense and Sensibility. Shows are presented in the Todd Wehr Auditorium at Concordia University Wisconsin and other venues. Telephone: (414) 744-5995; www.acaciatheatre.com.
Boulevard Theatre
The Boulevard Theatre continues to be the "go to" place for the unexpected and entertaining in and around Milwaukee. Boulevard began a cultural eruption when it opened its doors on Kinnickinnic 32 years ago.  The overflow of civic improvement and cultural contributions to both the Bay View neighborhood and the greater Milwaukee community continues to provide fertile soil for new, emerging artists. Various venues throughout the Milwaukee area; Telephone: (414) 744-5757; www.milwaukeeboulevardtheatre.com.
First Stage Children's Theater
325 W. Walnut St., Milwaukee; Since 1987, First Stage has become one of the nation's most acclaimed children's theaters and the second-largest theater company in Milwaukee. The current season includes: The Snowy Day and Other Stories; A Wrinkle in Time; Gretel!; The Legend of Rock, Paper, Scissors; Alex & the Amazing Lemonade Stand; and You Can't Take It With You. Offers birthday parties and welcomes scout troops and school groups. Telephone: (414) 267-2929; www.firststage.org.
Milwaukee Chamber Theatre
158 N. Broadway, Milwaukee; Milwaukee's third largest nonmusical theatre company comprised of mainly local artists. The current season features the world premiere of Wisconsin writer Erica Berman's No Wake, Gently Down the Stream, the Young Playwrights Festival, and more. Performances at the Broadway Theatre Center in the Historic Third Ward. Telephone: (414) 291-7800; www.chamber-theatre.com
Milwaukee Repertory Theater (The Rep)
108 E. Wells St., Milwaukee; 66th Season! Productions in four venues: The Quadracci Powerhouse Theater, The Stiemke Studio, the Stackner Cabaret, and the Historic Pabst Theater (for its annual performance of Dickens's A Christmas Carol.) Current season highlights include: Nunsense: A Musical Comedy, The Legend of Georgia McBride, Hedwig and the Angry Itch, Chasin' Dem Blues: Untold Story of Paramount Records, Eclipsed: Celebrating Milwaukee SHEroes, Antonio's Song, Hootenanny: The Musicale, Destiny of Desire, the August Wilson Monologue Competition, and the 10th Anniversary Rep Lab Short Play Festival. Telephone: (414) 224-9490; www.milwaukeerep.com.
Next Act Theatre
255 S. Water St., Walker's Point - Milwaukee; Next Act engages the hearts and minds of audiences with compelling, intimate, theatre intended to stimulate thought, foster the exchange of ideas, and promote the development of new perspectives and understanding. Upcoming productions include A Small Fire and 9 Circles. Telephone: (414) 278-0765; www.nextact.org.
Renaissance Theaterworks
158 N. Broadway, Milwaukee; Celebrating more than 25 years as Milwaukee's only women-founded, women-run professional theater company. Intimate, thought-provoking productions that awaken a recognition of what it is to be human with attention to women's roles both onstage and off. The theme for the 2018-19 season is She Blinded Me with Science. Performances at the Broadway Theatre Center. Telephone: (414) 272-0800; Website: www.r-t-w.com.
Skylight Music Theatre
158 N. Broadway, Milwaukee; Performances covering the full spectrum of music theatre with fresh perspective and interesting twists in an intimate venue. 2020 offerings include: Ruddigor (Or The Witch's Curse), The Gospel at Colonus, The 25th Annual Putnam County Spelling Bee, Evita, Candide and more! Telephone: (414) 291-7800; Website: www.skylightmusictheatre.org.
Sunset Playhouse
700 Wall Street, Elm Grove; Sunset Playhouse produces eight main stage shows a year - comedies, mysteries, and musicals. The Studio Theatre houses the After Sunset Series with four edgy dramas and musicals. In addition, the Playhouse is home to three professional series: Musical MainStage, with six concerts each season, a six-show cabaret series called SideNotes, and a three-show children's series called bug in a rug. The School for the Arts offers a wide variety of classes and workshops for children ages 3 - 18. Current season includes: Noises Off, Hal Prince: From Fiddler to Phantom, Produce This!, Ramblin' Rhode and the Roadhouse Rowdies, The Vagina Monologues, A Sparkling 60th Season Singalong, Revenge at the Reunion, Cabaret, The Beat Goes On: Rock Classics, Nobody Does it Better: Chick Singers of the 70s, Thoroughly Modern Millie, Winnie the Pooh, Barefoot in the Park and West Side Story. Telephone: 262-782-4430; www.sunsetplayhouse.com.
Theatre Gigante
342 N. Water St., Milwaukee; The "theatre of big ideas," offering over 30 years of innovative performance art dedicated to presentations that integrate theater, dance, text and music. The 2019-20 season continues with Crave and will close with a collaboration between Kralj & Anderson and Alessandro Renda of Teatro delle Albe of Ravenna, Italy which will premiere in Milwaukee. Performances held at UWM. Telephone: (414) 961-6119; Website: www.theatregigante.org.
UWM Peck School of the Arts - Theater
2400 E. Kenwood Blvd., Milwaukee; Presents large-scale dramatic and musical productions in a 525-seat mainstage theatre and smaller, contemporary works at the Kenilworth FIVE-0-EIGHT black box theatre. This year's season includes: Female Transport, The Trojan Women, #3 (hashtag cubed), Bonnie & Clyde and the Kenilworth Open Studios production. Telephone: (414) 229-4308; uwm.edu/arts/events/category/theatre.