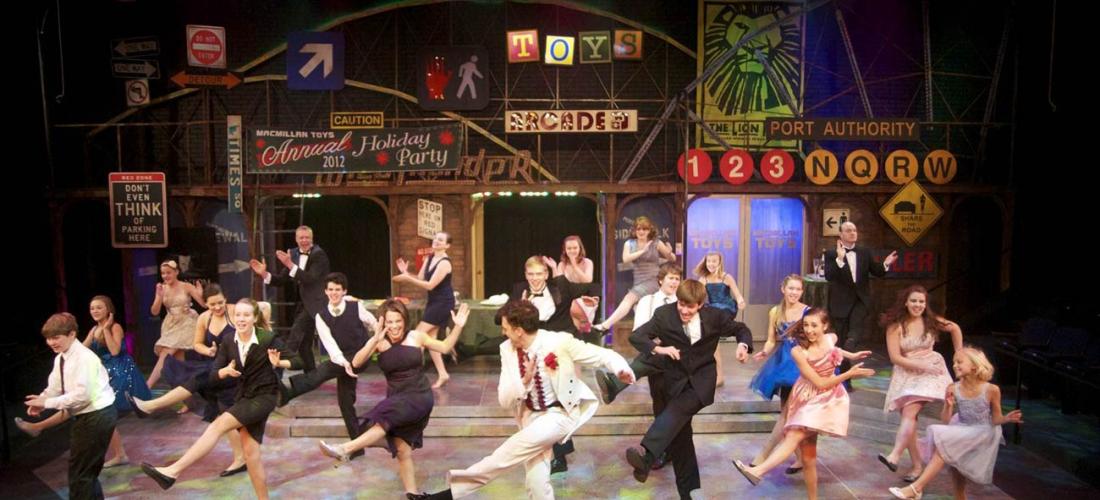 © Visit Milwaukee
Theater Companies
Acacia Theatre Company
12800 N. Lake Shore Dr., Mequon; Independent, non-profit, interdenominational troupe that integrates art and faith in a Christian world view providing opportunities for Christians and non-Christians alike to consider their lives in relation to God. Shows are presented in the Todd Wehr Auditorium at Concordia University Wisconsin and other venues. Telephone: (414) 744-5995; www.acaciatheatre.com.
First Stage Children's Theater
325 W. Walnut St., Milwaukee; Since 1987, First Stage has become one of the nation's most acclaimed children's theaters and the second-largest theater company in Milwaukee. The current season includes: The Watsons Go to Birmingham - 1963; The Legend of Rock, Paper, Scissors; The Amazing Lemonade Girl; The Dancing Granny; Last Stop on Market Street; and MacBeth. Offers First Stage at Home Enrichment Guides. Telephone: (414) 267-2961; www.firststage.org.
The Interchange Theater Cooperative
628 N. 10th Street, Milwaukee; The Interchange Theater Co-op was formed in 2020 and is Milwaukee's first cooperatively run improv theater company. The group of professional improvisers offers weekly shows along with education in long form and short form improvisation for beginners and professionals. The owner membership is dedicated to creating a unique and inviting space both virtually and in-person for performers and all fans of comedic improvisation. Coupled with the groups commitment to supporting the local community, The Interchange Theater co-op is looking to give the community a reason to smile every day.  www.interchangetheater.com
Milwaukee Chamber Theatre
158 N. Broadway, 5th Floor, Milwaukee; Milwaukee's third largest nonmusical theatre company comprised of mainly local artists. The 20-21 Virtually Re-Imangined Season features recorded performances of The Island, The Way She Spoke, Underneath the Lintel, The Thanksgiving Play and The Milwaukee Black Theater Festival. Performances at the Broadway Theatre Center in the Historic Third Ward. Telephone: (414) 250-8041; www.milwaukeechambertheatre.org
Milwaukee Repertory Theater (The Rep)
108 E. Wells St., Milwaukee; The Rep's 67th season presents Milwaukee Rep AT HOME. The original lineup for this year has been moved to 2021-2022 with a full 12-play season starting in September 2021. The Rep's 2020-2021 Season Reset features five plays in theaters that are socially-distanced. Attend in person or virtually. Season includes: Ella Fitzgerald: First Lady of Song, Antonio's Song/I Was Dreaming of a Son, McGuire, Nina Simone: Four Women and the August Wilson Virtual Monologue Competition 2021.  Productions in four venues: The Quadracci Powerhouse Theater, The Stiemke Studio, the Stackner Cabaret, and the Historic Pabst Theater for its annual performance of Dickens's A Christmas Carol. Telephone: (414) 224-9490; www.milwaukeerep.com.
Next Act Theatre
255 S. Water St., Walker's Point - Milwaukee; Next Act engages the hearts and minds of audiences with compelling, intimate and personal theatre intended to stimulate thought, foster the exchange of ideas, and promote new perspectives and understanding. Upcoming productions include Principal Principle, The Last White Man, and Red Herring. Each production is professionally videotaped and released for exclusive online viewing to ticket holders who don't feel comfortable attending in person. Telephone: (414) 278-0765; www.nextact.org.
Renaissance Theaterworks
158 N. Broadway, Milwaukee; Celebrating more than 25 years as Milwaukee's only women-founded, women-run professional theater company offering theater By Women for Everyone. Intimate, thought-provoking productions awaken a recognition of what it is to be human with attention to women's roles. The current virtual season presents "Belonging," featuring three short plays by playwrights of color, including The Winged Man, Poof!, and All of the Everything, as well as Neat and Best of Br!NK Briefs. Also offering IN THE BOX ENTERTAINMENT, Zoom-based interactive theatrical experiences co-produced with Adirondack Theatre Festival, such as Living Room Cruise: A Cruise in a Box, Manhunt: Mystery in a Box and Painting for One: Paint in a Box. Artistic home is at 255 S. Water St., Milwaukee. Telephone: (414) 278-0765; Website: www.r-t-w.com.
Sunset Playhouse
700 Wall Street, Elm Grove; Sunset Playhouse produces eight main stage shows a year - comedies, mysteries, and musicals. The Studio Theatre houses the After Sunset Series with four edgy dramas and musicals. In addition, the Playhouse is home to three professional series: Musical MainStage, with six concerts each season, a six-show cabaret series called SideNotes, and a three-show children's series called bug in a rug. The School for the Arts offers a wide variety of classes and workshops for children ages 3 - 18. Telephone: 262-782-4430; www.sunsetplayhouse.com.
Theatre Gigante
342 N. Water St., Milwaukee; The "theatre of big ideas," offering over 30 years of innovative performance art dedicated to presentations that integrate theater, dance, text and music. The current season continues with a plan to offer Zoom performances and eventually reintroduce live productions when possible. Performances held at UWM. Telephone: (414) 961-6119; Website: www.theatregigante.org.
UWM Peck School of the Arts - Theater
2400 E. Kenwood Blvd., Milwaukee; Presents large-scale dramatic and musical productions in a 525-seat mainstage theatre and smaller, contemporary works at the Kenilworth FIVE-0-EIGHT black box theatre. Telephone: (414) 229-4308; uwm.edu/arts/events/category/theatre.