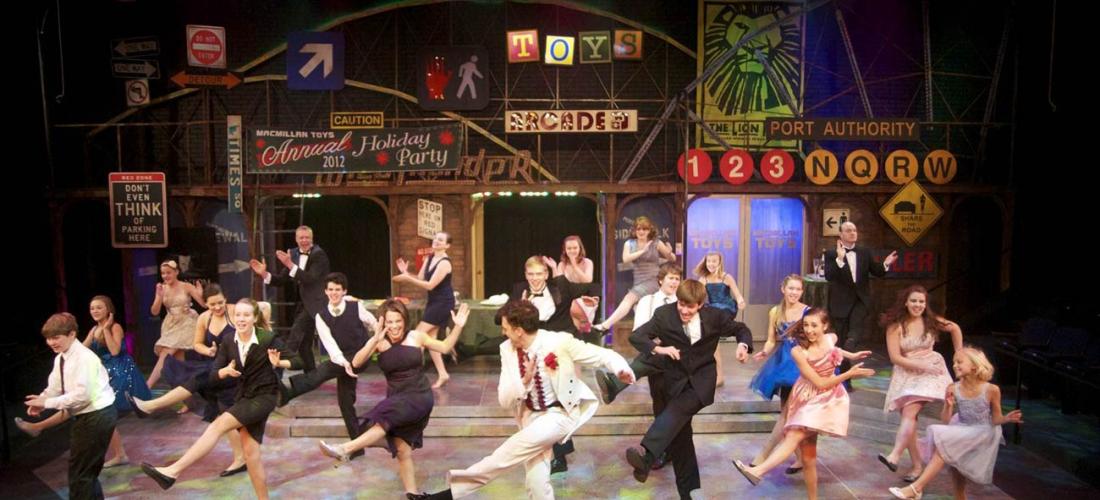 © Visit Milwaukee
Theater Companies
Acacia Theatre Company
2224 W. Kilbourn Ave., Milwaukee; Independent, non-profit, interdenominational troupe that integrates art and faith in a Christian world view that provides an opportunity for Christians and non-Christians alike to consider their lives in relation to God. The remaining 2022-2023 season presents We Will Not Be Silent and Holmes and Watson. Shows are performed at The Norvell Commons at St. Christopher's Episcopal Church (7845 N. River Road, River Hills). Telephone: (414) 744-5995; acaciatheatre.com.
First Stage Children's Theater
325 W. Walnut St., Milwaukee; First Stage has become one of the nation's most acclaimed children's theaters and is the second-largest theater company in Milwaukee. The current season includes:  performances of Carmela Full of Wishes; The Hobbit; Little Women; The Spongebob Musical for Young Audiences; Bob Marley's Three Little Birds; The Gracious Sisters; and Amplify Series: Hidden Heroes, Frankie: The Untold Story of a Gurl Frankenstein and The Forgotten Girl.  Telephone: (414) 267-2929; firststage.org.
Milwaukee Chamber Theatre
158 N. Broadway, 5th Floor, Milwaukee; One of Milwaukee's largest nonmusical theatre companies comprised of primarily local artists. Current season continues with Who's Afraid of Virginia Woolf, Hoops, The Mountaintop, and the annual HERE2PLAY Series event. Performances are held at the Broadway Theatre Center in Historic Third Ward. Telephone: (414) 291-7800 ; milwaukeechambertheatre.org
Milwaukee Repertory Theater (The Rep)
Patty & Jay Baker Theater Complex, 108 E. Wells St., Milwaukee; The Rep's current season includes: Much Ado About Nothing, Dino! An Evening with Dean Martin, The Heart Sellers, August Wilson's Seven Guitars, The Greatest Love for Whitney: A Whitney Houston Tribute and God of Carnage. Productions held in three venues within the complex: The Quadracci Powerhouse, The Stiemke Studio, and the Stackner Cabaret. In addition, its annual performance of Dickens's A Christmas Carol is held at the historic Pabst Theater. Ticket Office Hours: Monday, Noon-6 pm; Tuesday-Sunday, Noon-Showtime. Telephone: (414) 224-9490; milwaukeerep.com.
Next Act Theatre
255 S. Water St., Walker's Point - Milwaukee; Engages hearts and minds with compelling, intimate and personal theatre intended to stimulate thought, foster the exchange of ideas, and promote new perspectives and understanding. Upcoming shows include: There Is a Happiness That Morning Is and God's Spies. Telephone: (414) 278-0765; nextact.org.
Renaissance Theaterworks
255 S. Water St., Walker's Point - Milwaukee; Celebrating 30 years as Milwaukee's women-founded, women-run professional company with Theater By Women For Everyone. Intimate, thought-provoking productions awaken a recognition of what it is to be human with attention to women's roles. The current season focus, "Resilient" features Co$t of Living and Tidy. Telephone: (414) 278-0765; r-t-w.com.
Sunset Playhouse
700 Wall Street, Elm Grove; Sunset Playhouse produces eight main stage shows a year - comedies, mysteries, and musicals. The Studio Theatre houses the After Sunset Series with four edgy dramas and musicals. In addition, the Playhouse is home to three professional series: Musical MainStage, with six concerts each season, a six-show cabaret series called SideNotes, and a three-show children's series called bug in a rug. The School for the Arts offers a wide variety of classes and workshops for children ages 3 - 18. Telephone: 262-782-4430; sunsetplayhouse.com.
Theatre Gigante
Milwaukee; The "Theatre of Big Ideas," offering over 30 years of innovative performance art dedicated to presentations that integrate theater, dance, text and music. Continues to offer live-streamed and Zoom-linked online performances, with a plan to eventually reintroduce live productions when possible. Performances held at UWM's Kenilworth Five-0-Eight Theatre, 2155 N Prospect Ave. Telephone: (414) 961-6119; Website: theatregigante.org.
UWM Peck School of the Arts - Theater
2400 E. Kenwood Blvd., Milwaukee; Presents large-scale dramatic and musical productions in a 525-seat mainstage theatre and smaller, contemporary works at the black box Kenilworth Five-0-Eight Theatre. The Spring 2023 offerings include: All Night Strut, Sweat and The Rivals, as well as the First-Year Musical Theatre Spring Showcase. Box Office Hours: Monday, Wednesday & Friday 10-6. Telephone: (414) 229-4308; uwm.edu/arts/theatre