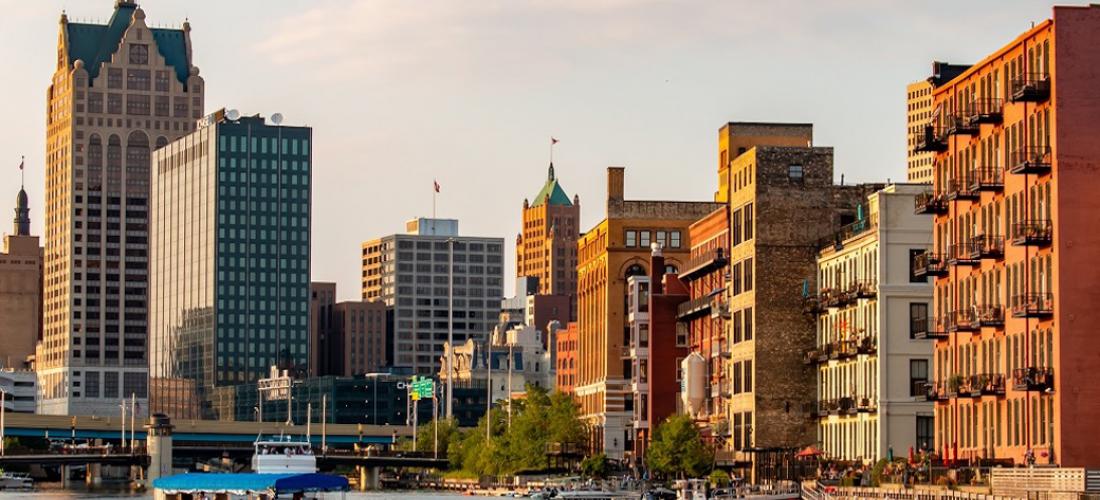 © Visit Milwaukee
Metro Milwaukee
Milwaukee is a county of extremes. It is one of the state's smallest counties geographically – and its most populous. Its mood ranges from the hustle and bustle of Milwaukee's downtown to the rural quietness of River Hills, Hales Corners and Franklin.
There is the nightlife revelry along Water, Brady and Old World Third streets and the quiet serenity of the 15,000-acre Milwaukee County park system. There's the majestic fury of Lake Michigan on a blustery November day and the quiet gurgling of the Kinnickinnic River. There are the stately lakefront mansions along the county's North Shore and the South Side's modest bungalows. It is a county of cities and villages – from the sprawling city of Milwaukee to the quiet village of Greendale, a "Greenbelt" community designed and built around public parks. There really is something for everyone in Milwaukee County. No matter where you live in this dynamic county, you will never be far from the action. 
Milwaukee
Milwaukee is the hub of the metropolitan area. The 30th largest city in the nation, it is known for its cleanliness, beauty and diverse population. It is a community with a big-city soul and a small-town heart. Milwaukee is both accessible and affordable. Home prices have appreciated conservatively, avoiding the wild swings that have plagued other housing markets. Because of Milwaukee's "melting pot" heritage, there is a variety of neighborhoods from which to choose, each with its own distinctive flavor. These quiet, residential neighborhoods are scattered throughout the city, often distinguished by parks and small commercial districts. 
Downtown Living
Downtown Milwaukee is one of the most exciting residential areas in the metropolitan area. The city's investment in a new riverwalk along the Milwaukee River, coupled with the growing demand for urban professionals to be "near the action," has spawned a multitude of upscale apartment and condominium projects. These new homes are located throughout the downtown area - in the city's central business district; just north of downtown in Brewer's Hill, one of Milwaukee's oldest neighborhoods; in the Park East corridor; and in the trendy Third Ward and Fifth Ward/Walker's Point just south of downtown. Of these areas, the Third Ward is the most developed. Located in a former warehouse district, its brick buildings have become a magnet for boutique shops, unique eateries, professional offices, condominiums and apartment homes.
The East Side is a densely settled neck of land squeezed between the Milwaukee River and Lake Michigan. Its unofficial boundaries run from the Milwaukee River east to Lake Michigan and from the city limits south to Ogden Avenue. Though only one mile wide and three miles long, it is crammed with dozens of neighborhoods, scores of specialty stores and a population that is extremely diverse. This is the "hip" side of Milwaukee and it is as exciting as it is complex. The more than 27,000 students who attend the University of Wisconsin-Milwaukee keep the area energized. Just west of the Milwaukee River is Riverwest, one of the city's most ethnically diverse neighborhoods, which is home to a large artist population.
Milwaukee's West Side dates back to the days of Kilbourntown, when the city's movers and shakers – including the Plankintons, Mitchells, Pabsts and Brumders – built imposing mansions on what is now West Wisconsin Avenue. Story Hill is the oldest neighborhood in this area. Located just north of I-94 and east of Calvary Cemetery, the winding streets of this subdivision feature the highest concentration of brick, stone and stucco homes within the city.
North Side
The original home of Milwaukee's German population, the North Side is now home to much of the city's African-American population. The Northwest Side boasts the greatest abundance of single-family homes in Milwaukee. Sherman Park, which is located east of Sherman Boulevard and north of North Avenue, is known for the beautiful brick and Lannon-stone homes that sit majestically on wide, quiet streets. Bungalows are also common in this ethnically diverse neighborhood. Lindsay Park is home to the blue-domed Annunciation Greek Orthodox Church, which is located at 92nd and Congress streets and is the last major project designed by Frank Lloyd Wright.
South Side
Settled by Polish and Italian immigrants, the South Side has a rich, Catholic flavor. It is home to kielbasa and pierogies, to church festivals and working class families. It is also home to Alverno College, a nationally acclaimed women's college; Serb Hall, which is known for its Friday night fish fries; and some of the city's most beautiful churches. 
Bay View is located on the South Side's eastern edge, along the shores of Lake Michigan and south of the Hoan Bridge. Started as a company town in 1868, it remained an independent suburb for several decades before it was swept up by Milwaukee's march southward. To this day, it remains a staunchly independent community. It also is one of the most desirable places to live with its mix of bungalows and expansive lakefront homes. South Kinnickinnic Avenue is Bay View's primary commercial street but there are many businesses and specialty shops tucked along the community's side streets. In recent years, young professionals have flocked to Bay View, attracted by its community atmosphere and proximity to Lake Michigan. 
North Shore: Shorewood • Glendale • Whitefish Bay • Fox Point • River Hills • Bayside
Nestled among large stately trees and bordering the shimmering Lake Michigan coastline are the North Shore suburbs of Shorewood, Glendale, Whitefish Bay, Fox Point and Bayside. Here you will find some of the nicest homes in Milwaukee County. There are the spacious homes of Milwaukee's founding business barons along scenic Lake Drive, the secluded multi-acre estates of River Hills and the brick and stucco homes near the University of Wisconsin-Milwaukee campus. All of these communities are defined by water. Shorewood, Whitefish Bay, Fox Point and Bayside are located on Lake Michigan, while River Hills straddles the Milwaukee River.
The average home prices in these communities range from $250,000 to $500,000, with lakefront property values in the millions. All six villages feature a mixture of homes - from elegant, turn-of-the-century mansions to modest, newer homes owned by young families. Residents can stroll through the quaint shops and restaurants located in the downtown areas of Shorewood and Whitefish Bay or relax in the peaceful solitude of Fox Point, Bayside and River Hills, which have large secluded lots. 
Whitefish Bay is a former resort town and retains much of that charm. The East Silver Spring Drive shopping district is filled with a delightful array of specialty shops and boutiques. Here you'll find spacious lots, stately shade trees and beautiful examples of Colonial and Early American architecture. Shorewood is the most urban of the North Shore suburbs. Located just north of the city of Milwaukee, it blends in with the city's Upper East Side neighborhoods and the bustling campus of the University of Wisconsin-Milwaukee. A popular community for young professionals, its residents have a median age of 36.5 years, the lowest of the North Shore suburbs.
River Hills is just west of Bayside and Fox Point. Zoned entirely residential with a minimum lot requirement of five acres, River Hills has the feel of an elegant country village. 
Glendale, which is located along the Milwaukee River, has a blend of smaller manufacturers, retailers and international business headquarters. The city has embarked on an extensive development near Silver Spring Drive that includes the Bayshore Town Center, an open-air retail mall and includes new office and residential developments. Fox Point and Bayside, located on the northern fringes of Milwaukee County, offer more rural living in homes that are often called "estates." Fox Point is primarily a residential community but features several small commercial districts that cater to the many business and civic leaders who live here. The Schlitz Audubon Center, which was once the grazing area for the Joseph Schlitz Brewing Company horses, features 187 acres of meadows, ponds, woods and lakefront coastline. Bayside is the northeastern-most community in Milwaukee County. It features a high quality of living, low property taxes and quick access to Lake Michigan, downtown Milwaukee and Ozaukee County. 
Wauwatosa 
Wauwatosa is a white-collar community blessed with a healthy mixture of upscale homes, office buildings, retail developments and medical facilities. One of the earliest settlements in the area, it was the location of the first bridge across the Menomonee Valley. Ideally situated at the center of the metropolitan area, Wauwatosa has two commercial districts – the historic downtown district located in the valley near N. 76th Street and W. State St., and Mayfair Road, which is lined with office buildings and commercial businesses.
Mayfair Road also is home to Mayfair Mall, one of Milwaukee's largest and most popular regional shopping centers, and the Mayfair Collection, a newer shopping area. The historic Washington Highlands has long been a sought-after residential location in Wauwatosa, but there are many other charming subdivisions as well, all of which offer suburban living with close proximity to downtown Milwaukee.
The area is attractive to professionals because of its proximity to the Milwaukee County Grounds, which consists of more than 1,100 acres of parkland and medical facilities, including the Milwaukee Regional Medical Center and the Milwaukee County Research Park. The medical center is home to two of the region's leading hospitals - Children's Hospital and Froedtert Hospital - a mental health complex, a major blood research lab, one of the nation's largest rehabilitative therapy centers and the Medical College of Wisconsin, a private, nationally recognized teaching and research institution.    
West Allis/West Milwaukee
With a population of nearly 60,000, West Allis ranks as one of the largest cities in Wisconsin. Once the home of the Allis-Chalmers farm equipment manufacturing empire, it has been a blue-collar town, but has witnessed a dramatic increase in home sales to young professionals. It is home to State Fair Park, which hosts the annual Wisconsin State Fair, and the Pettit National Ice Center. The city also boasts the region's largest Farmer's Market, which is held several times a week during the summer months on National Avenue, west of 66th Street. West Milwaukee is a small, formerly industrial area that has been transformed into a residential and commercial community along South 43rd Street near Miller Park, home of the Milwaukee Brewers professional baseball team.
Brown Deer
Think golf and you'll think of Brown Deer, which is located just north of Milwaukee and a short drive from downtown. The Milwaukee River and Brown Deer Park form the village's eastern border. A modern community located just west of the exclusive village of River Hills, it developed rapidly after World War II and is home to a diverse mix of professional families. It is also a golfer's haven, with no fewer than two country clubs and the Brown Deer Golf Course, which has been ranked one of the five best public courses in the nation and used to be a regular stop on the PGA tour.
Southwest Suburbs: Franklin • Greendale • Greenfield • Hales Corners 
The southwestern suburbs of Franklin, Greendale, Greenfield and Hales Corners offer both urban and rural living opportunities. They contain three of the county's busiest commercial districts – South 108th Street (Highway 100), South 76th Street and South 27th Street – as well as some of the most beautiful parkland in the county. Whitnall Park and the Root River Parkway, which cut through southwestern Milwaukee County, offer acres upon acres of green space for picnicking, bicycling and other types of family enjoyment. Whitnall is home to Boerner Botanical Gardens, which has more than 40 acres of perennials, annuals, roses, tulips and ornamental trees; Wehr Nature Center hiking trails; and the Whitnall Park Golf Course. There is also The Rock, a ski hill and baseball complex at South 76th Street and West Rawson Avenue.
Franklin is one of the state's fastest-growing areas. New residential developments are springing up throughout the community, primarily near Drexel, Puetz, Loomis and Ryan roads. In recent years, the city has built a new municipal building and library. The community is blessed with an ample supply of parkland that will guarantee green space for generations to come. 
Greendale was created in 1938 as a U.S. Department of Agriculture experiment in urban planning. One of three "Greenbelt" communities built by the federal government in the 1930s, it is modeled after an English garden town. Parks, gardens, recreational areas and open spaces completely surround the community. It is also the home of Southridge Mall, a regional shopping. 
Greenfield is one of the county's larger communities geographically, extending from the Waukesha County line on the west to 27th Street on the east. As its name implies, Greenfield contains many parks and recreational areas. It is also a vibrant city, with at least seven distinct commercial districts - Highway 100, 76th Street, Forest Home Avenue, Layton Avenue, 60th Street, Loomis Road and 27th Street.
Hales Corners, the smallest of the southwestern suburbs, is a quaint community with several residential subdivisions and commercial districts along Highway 100, Janesville Road and Forest Home Avenue near the Milwaukee-Waukesha county line.
South Shore: Cudahy • Oak Creek • St. Francis • South Milwaukee
While Milwaukee's North Shore is trendy and affluent, the South Shore is "down-to-earth" and very proud of it. The South Shore includes the communities of Cudahy, Oak Creek, St. Francis and South Milwaukee. Here you will find some of the area's best-kept lawns, cleanest streets and quietest neighborhoods. Here you will also find some of the most beautiful shoreline along Lake Michigan. A series of county-owned parks blend into one another from Bay View through South Milwaukee. They feature bicycle and cross-country ski trails that wind through small woodlands and offer amazing vistas of Lake Michigan. 
St. Francis is home to the Archdiocese of Milwaukee, which has its headquarters at 3501 S. Lake Drive. The community's old-world charm and untapped potential has spawned several upscale, lakefront condominium projects. Minutes away from General Mitchell International Airport, the city is home to two large lakefront parks and the Seminary Woods conservancy area, which features walking trails through old-growth trees.
Cudahy was a company town that was formed by the Cudahy Packing Company in 1896. Today it is primarily a quiet, residential community with quick access to the airport and the interstate. Sheridan Park, located on Lake Michigan, features a swimming pool, bike trail, picnic and recreation area.
South Milwaukee is one of the more populous of the South Shore communities, but retains a small-town flavor with a healthy mix of business and residential settings. It is also one of the older communities with roots that date back to the 1830s. Grant Park, one of the largest parks in the Milwaukee County Park System, is along Lake Michigan at the eastern edge of the community.
Oak Creek is the largest South Shore community, spanning almost 29 square miles. Located on Lake Michigan in the southeastern corner of Milwaukee County, its motto is "Where City Meets the Country" and it offers more than two dozen distinct neighborhoods, including the new Drexel Town Square, a new development that includes restaurants, stores, offices, the Oak Creek Public Library and residential living.