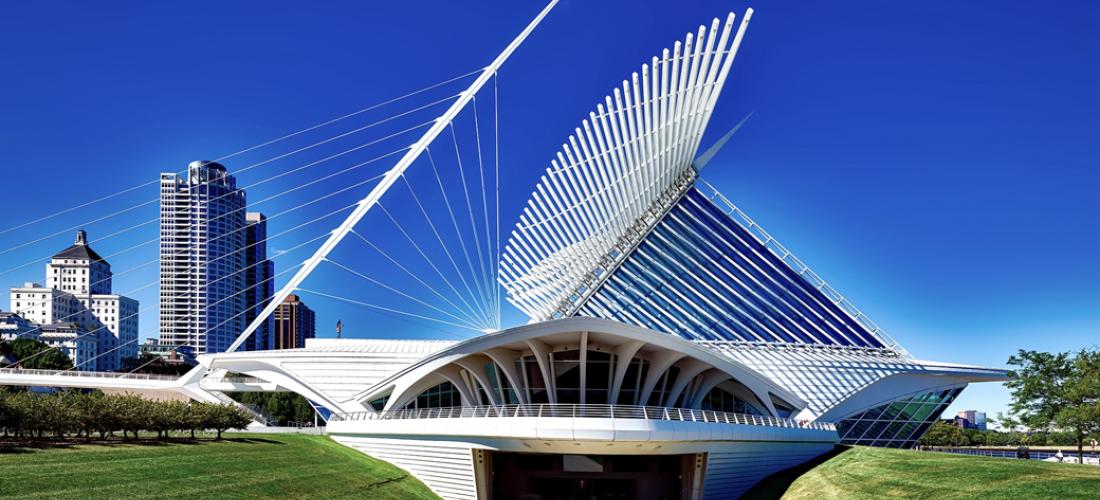 © Visit Milwaukee
Art Museums
Charles Allis Art Museum
1801 N. Prospect Ave., Milwaukee; Listed on the National Register of Historic Places, the lavish 1911 home of Charles and Sarah Allis contains an art collection that includes 19th century French and American paintings, classic antiquities, Renaissance bronzes, Asian ceramics and decorative arts. Winter hours (October-April): 10-5, Wednesdays-Sundays; summer hours: 10-5 Wednesdays, 10-8 Thursdays, 10-5 Fridays-Sundays. Telephone: (414) 278-8295; www.cavtmuseums.org or www.charlesallis.org.
Grohmann Museum
1000 N. Broadway, Milwaukee; Home to the world's most comprehensive art collection dedicated to the evolution of human work, the museum includes more than 1,400 paintings, sculptures and works on paper from 1580 to the present. Open 9-5 Mondays-Fridays; 12-6 Saturdays; and 1-4 Sundays. Telephone: (414) 277-2300; www.msoe.edu/grohmann-museum.
Haggerty Museum of Art
1234 W. Tory Hill St., Milwaukee; Located on the Marquette University campus, the museum features two floors and a permanent collection that includes European and American contemporary art, Old Master paintings and photography. Hosts events. Free. Open 10-4:30 Mondays-Saturdays (10-8 Thursdays); 12-5 Sundays. Telephone: (414) 288-1669; www.marquette.edu/haggerty.
Lynden Sculpture Garden
2145 W. Brown Deer Rd., Milwaukee; Offers an experience of art in nature through its collection of more than 50 monumental outdoor sculptures sited across 40 acres of park, lake & woodland. Open daily 10-5 (closed Thursdays); Wednesdays 10-7:30, June-October. Telephone: (414) 446-8794; www.lyndensculpturegarden.org.
Milwaukee Art Museum (MAM)
700 N. Art Museum Dr., Milwaukee; Part of a 340,000-square-foot complex that includes MAM, the War Memorial Center, The Kahler Building and the Quadracci Pavilion, created by Spanish architect Santiago Calatrava. The museum's holdings include nearly 30,000 works spanning antiquity to the present day, with strengths in 19th and 20th century American and European art, contemporary art, American decorative arts, and folk and self-taught art. Educational programs, special exhibits and events. Hours: 10-5 Tuesdays-Sundays; 10-8 Thursdays. Telephone: (414) 224-3200; www.mam.org.
Museum of Wisconsin Art (MOWA)
205 Veterans Ave., West Bend; Celebrates the diversity and uniqueness of Wisconsin artists by collecting, conserving, exhibiting and promoting the visual arts of Wisconsin. Open 10-5 Tuesdays-Sundays; 10-8 Thursdays; Telephone: (262) 334-9638; www.wisconsinart.org.
Racine Art Museum (RAM)
441 Main St., Racine; Award-winning architecture houses one of America's largest contemporary craft collections with more than 9,500 objects from nationally and internationally recognized artists in a variety of media. Studio art classes and workshops. Open 10-5 Tuesdays-Saturdays; 12-5 Sundays; Extended hours on Free First Fridays April-December (Until 9 p.m.). Telephone: (262) 638-8300; www.ramart.org.
RAM's Wustum Museum of Fine Arts
2519 Northwestern Ave., Racine; Highlights exhibitions of important regional and local artists. One of the largest studio art programs of any Wisconsin museum. Admission/parking are free. Hours: 10-5 Tuesdays-Saturdays. Telephone: (262) 636-9177; www.ramart.org.
UWM Peck School of the Arts Galleries
2400 E. Kenwood Blvd., Milwaukee; Four adjoining exhibition spaces rotate exhibits of contemporary architecture, film, painting, performance, photography and sculpture. Hours: During specific exhibits or by appointment only. Exhibitions and lectures free and open to the public. The Emile H. Mathis Gallery at Mitchell Hall houses the broader UWM Art Collection. Telephone: (414) 229-6310; www.uwm.edu/art-and-design/galleries or www.uwm.edu/arthistory/gallery
Villa Terrace Decorative Arts Museum
2220 N. Terrace Ave., Milwaukee; Overlooking Lake Michigan in a 1923 Italian Renaissance-style villa, the museum features fine and decorative arts from the 15th through 18th centuries, wrought-iron masterpieces by Cyril Colnik, a formal garden and changing exhibits. Open 10-5 Wednesdays-Sundays. Special events. Telephone: (414) 271-3656; www.villaterracemuseum.org.