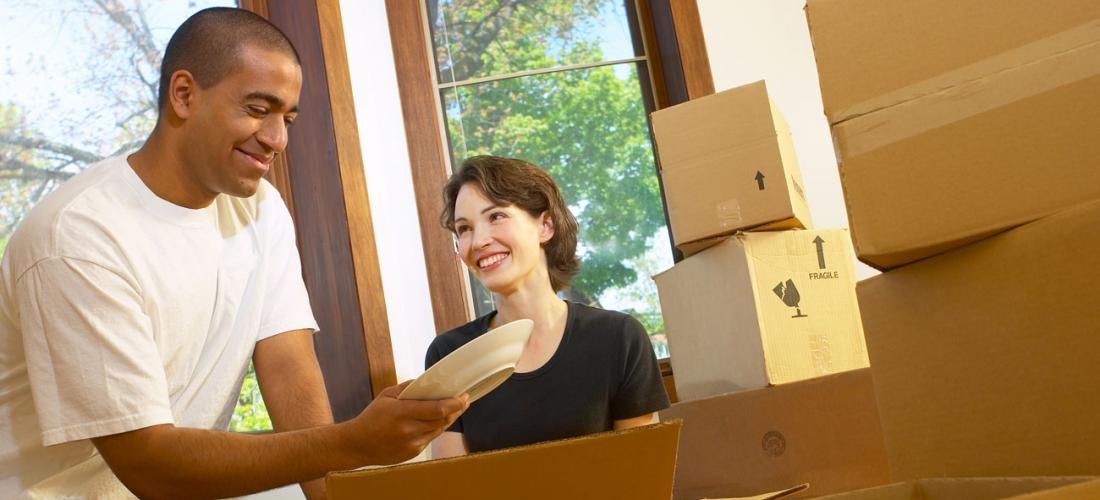 Moving Tips
Moving to the Milwaukee area? One of the first things to check is whether your homeowners or renters insurance will cover your belongings during transit. If not, you will want to buy special coverage.
Checking the Boxes: Things to Know When You Move
Unless you're carefully organized, moving can disintegrate into a nightmare of seemingly endless, last-minute headaches. There's always something that's forgotten in the rush, and that something can often consume a lot of time when trying to fix it from far away. The key to avoiding these hassles is to make a list of the things that have to be done and then accomplish those tasks using a steady and determined approach.
Following is information that will come in handy as you prepare to move and settle into your new community.
Licenses
Following is a list of resources for state and local license requirements.      
Wisconsin DNR
Wisconsin's Department of Natural Resources (dnr.wi.gov) offers an online, one-stop license center for hunting and fishing licenses through its Go Wild system. To purchase fishing, hunting or trapping authorities, or for online registration service for boats, ATVs, UTVs, snowmobiles, or off-highway motorcycles, as well as permits, stamps and snowmobile trail passes, login to the Go Wild site at gowild.wi.gov to set up an account and access the customer dashboard and catalog. In addition to licenses and fees, Go Wild also provides information regarding safety education classes, off-highway recreational vehicle renewals, harvest reporting for hunters, and well-drilling permits.
Bicycle Licenses
Contact the appropriate local government regarding fees, rules and regulations. Milwaukee residents, see city.milwaukee.gov/bicyclelicenses for specific information for that municipality or contact the City Clerk - License Division at 414-286-2238 or via email at license@milwaukee.gov. Free licenses may also be obtained in person at Milwaukee City Hall, 200 E. Wells Street, Room 105 and at libraries, police stations or local universities.
Dog & Cat Licenses
Most communities require pets to be licensed and limit the number of dogs or cats you can have at your residence without a kennel permit. In the City of Milwaukee, all dogs and cats over the age of five months residing in the city must be licensed annually. Licensing and fee information is available from the Department of Neighborhood Services at city.milwaukee.gov/dogandcatfees. For online licensing, see licensepet.com/milwaukee. Licenses can also be obtained from the Milwaukee Area Domestic Animal Control Commission (madacc.org/services.gov), which also provides services for other communities in the region. You may also contact your local treasurer or clerk's office.
Concealed Carry
Wisconsin is a concealed-carry state, which means law-abiding citizens can apply for a permit to legally carry concealed weapons in certain public areas. For more information on the state's concealed carry regulations, how to obtain a concealed-carry permit, required training and the $40 application fee, please visit the Wisconsin Department of Justice website at concealedcarry.doj.wi.gov. 
Voting in Wisconsin
Wisconsin law requires voter registration, which can be done up to 20 days before an election either online at MyVote.Wi.gov or by mail. Online registration is available for eligible voters with a valid State of Wisconsin driver license or ID card issued by the Wisconsin Department of Motor Vehicles (DMV). Voters can also register in-person in their municipal clerk's office up until the Friday before an election or at the polling place on Election Day. If an absentee ballot is needed, visit Vote Absentee at the MyVote website. Voters must complete a registration application if they are new to the state, first-time voters, if their name and/or residence has changed, or if they have not voted in the past four years. Voters must have resided at their current address for at least 28 days prior to an election and must provide an approved proof-of-residence document. Residents already registered to vote in Wisconsin but in need of updating the name and/or address on file, may do so online as well. By law, Wisconsin voters must show an accepted photo ID to receive a ballot for all elections. Learn about Wisconsin's Voter Photo ID Law at BringIt.Wi.gov.
The Wisconsin Elections Commission provides information on voter registration and election law. The MyVote website is the go-to resource for citizens who intend to vote in local, state and national elections. It provides election dates and polling sites, and provides sample ballots and absentee ballot requests (including for U.S. Military members, spouses and dependents). myvote.wi.gov. For specifics on local elections, see your municipality's website as well. elections.wi.gov/voters
Here are some things to remember:
Don't bring what you really don't want. There is a lot of wisdom in being as merciless as possible with your personal belongings. All too often, boxes of "mementos" are moved from one community to another only to be stacked in the attic - unopened - until the next move. 
Get plenty of small, but sturdy, boxes. Large boxes are difficult to lift and awkward to carry when they are full. Local supermarkets and shopping malls are excellent sources of free boxes. Liquor stores usually have a good supply of compartmentalized boxes, which can be used to transport glass and other breakables.
Save your newspapers. They'll come in handy for packing. However, because newspaper ink can stain some china, dishes should be wrapped in tissue before being wrapped in paper.
Use towels, blankets, pillows and washcloths as cushions. Instead of packing your bedding and towels together, use them to fill up space in boxes filled with breakables.
Pack books with books, dishes with dishes. The risk of damage is greatly reduced when similar items are packed together. If you have an "odds-and-ends" package, place the heavier items at the bottom of the box.
Prevent against accidental spills. Medicine, perfume, nail polish and other liquids can damage items. Use tape to secure their lids, then pack them in sealed plastic bags.
Some things should not be packed. Legal documents, medical records, jewelry, collections and anything that you would store in a safety deposit box should travel with you.
Don't pack anything that could leak or explode. Don't bother bringing aerosol cans, old cans of paint, bleach or solvents. They can cause more problems than they are worth.
Tape boxes shut. If you just fold the top over you might be picking up books in the driveway when the mover stumbles.
Dry out your refrigerator and freezer. They should be unplugged and left open for 24 hours prior to the move to keep mildew from forming.
Empty all fuel and storage tanks. Don't transport your lawnmower with a full tank of gas.
Make the move easier for your movers. By placing boxes close to the door and making sure appliances are disconnected, you can save movers' time and reduce your moving bill.
Houseplants are sensitive. They need light and air to survive. They should not be placed in situations where they could be smashed, knocked over or exposed to extreme temperatures. If they won't fit in your vehicle, give them to friends, nursing homes or hospitals.
Be prepared to pay your movers when you arrive at your new home. Payment is due when the move is complete.
Bring only enough perishable food to last you for the ride. You might not have electricity at your new home.
Conduct a final tour. Make sure nothing has been overlooked and that all gas and water connections are turned off.
Prepare a check-list of things to do. This will keep you from forgetting something important.