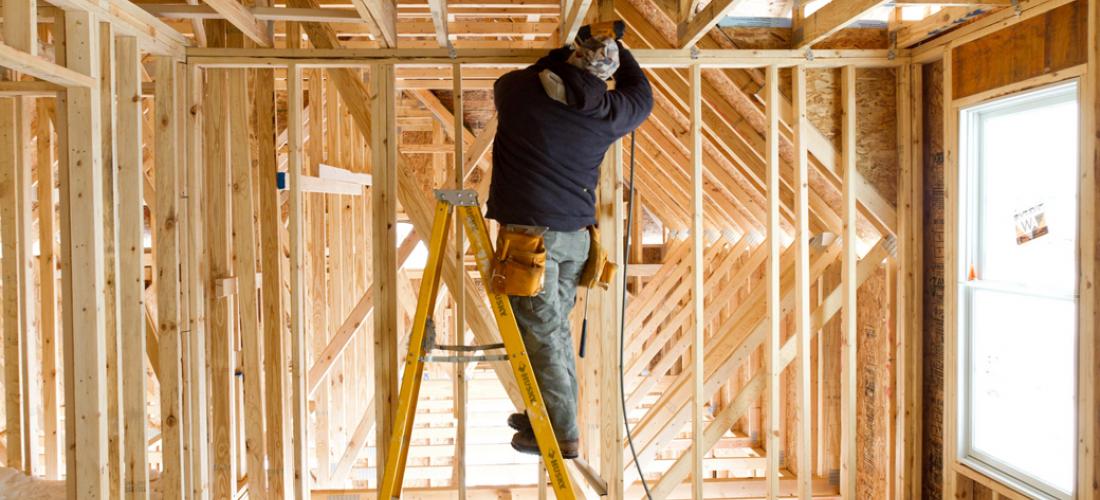 New Construction
Southeast Wisconsin is an excellent place to build your dream home. There is a variety of subdivisions from which to choose. Some are close to urban centers and major highways; others are tucked into the countryside, carefully designed to complement existing trees, streams and other natural resources.
Buying a Lot
Wisconsin is unique in that homeowners have traditionally purchased their lots and homes separately. "Spec" homes, which are designed and built in planned subdivisions in anticipation of demand, account for almost two-thirds of the new homes started nationally. In Wisconsin, some home builders offer house and lot packages, but it is still likely that you will deal with two different people when you build your home - the subdivision developer and the home builder.
Lot prices vary considerably between communities and subdivisions. A half-acre lot in western Waukesha County or southern Ozaukee County can cost $60,000 to more than $200,000, while a similar lot in Washington County may be priced between $45,000 and $75,000. Legal descriptions for lots are either "lot & block" or "metes & bounds." Lot & block parcels are the most frequently used legal description, especially in subdivisions. They state the actual lot dimensions and reference a certified survey that is kept on file at the county courthouse. Metes & bounds parcels are often used to describe isolated or scattered lots. If the seller uses this type of legal description, you should have your property surveyed in order to verify its actual boundaries.
Special Considerations
There are several issues you need to consider when choosing a lot. Due to the size of the investment you'll be making and the risks involved, you should seek legal assistance and/or consult with the local building inspector before you buy. Some of the things you should consider are:
DEED RESTRICTIONS - Ask the seller for a copy of the deed so you can review any restrictions or "covenants." Some subdivisions limit the building materials that can be used and may require a third party to approve your home's design. Once you have signed the deed, you are legally obligated to adhere to its restrictions.
DRAINAGE - Any purchase offer should be contingent on the fact that the parcel is not in a floodplain, and you should double check with the city engineer or building inspector. In addition, find out how the lot drains. The county surveyor's office has topographical maps that can help. 
SEWER/SEPTIC - If you need a septic system, make sure the lot has a recent - and acceptable - percolation and soil test. Clay is prevalent in Wisconsin soils and can interfere with drainage. If you have poor soil, you may have to install a special, mound-type septic system. If you have metro or storm sewer service, find out how much the lateral hookups will cost.
GARBAGE - Find out whether garbage collection is included in your property taxes as a municipal service or if you will have to contract with a private company. 
UTILITIES - Check with gas, electric, telephone and cable television utilities about availability and hookup costs.
IMPACT FEES - Some communities have implemented "impact fees" that are assessed to new homes. These fees, which range from $500 to $15,000 or more, are typically used to offset the cost of expanding schools and the community's infrastructure to accommodate the new developments. Check to see whether an impact fee has been imposed or is being considered in the community where you plan to build.
Landscaping
Like interior design, landscaping is primarily a matter of personal preference. However, because plants and trees have such a wide range of growth characteristics, homeowners should consult with landscape professionals to ensure their selections will be appropriate.
Landscape designers can alert homeowners to common pitfalls and can select shrubs and trees that will be especially suited to the drainage, lighting conditions and soil at your site. By grouping plants according to their growth rates and preferred settings, designers ensure that the landscaping is as attractive on day one as it is when it fully matures.
Due to the Milwaukee area's cold winters and hot summers, homeowners should take care in selecting plants. Metropolitan Milwaukee is located in Zone 5 of the National Weather Service's "growing map," which means winter temperatures seldom get below minus 20 degrees Fahrenheit. In addition, Lake Michigan provides a moderating effect, causing cooler summer temperatures and warmer winter temperatures in communities near the lake.