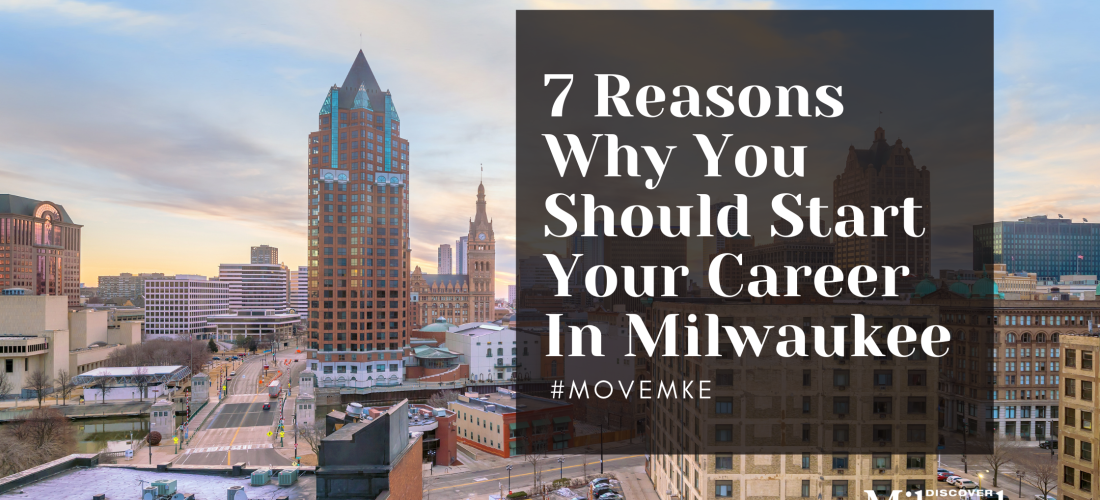 MoveMKE: 7 Reasons Why you should start your career in Milwaukee
It's that time of the year when the sun is out a little longer, we're switching out sweats for t-shirts, and our LinkedIn's are filled with updates about graduations and job offers. We know that finding a job isn't always linear and that transitioning from college life to a career can be daunting. The Milwaukee area is home to nearly 48,600 businesses, including 14 Fortune 1000 companies. There are plenty of opportunities to build your network and find a job that reflects your goals for professional growth. Forbes also recently ranked Milwaukee as one of the top ten communities for young professionals.
With spring commencement just around the corner, here are some solid reasons why we think you should start your career in Milwaukee!
1. AFFORDABILITY
You'll find rent and other essentials are priced moderately in the Milwaukee area.  Don't worry, in Milwaukee, you don't have to allocate half a paycheck to an apartment the size of a shoebox!  You'll find quality housing options, whether you buy or rent, across the five-county region.  To get started, check out our Apartment living section. We are known to be a big city with a small town feel, so you get the best of both worlds!
2. BOOMING DOWNTOWN
There's a lot of "mojo" in Milwaukee as new residential, office and entertainment developments continue to transform the city.  The magnificent lakefront, bustling RiverWalk and historic Third Ward provide the framework for modern, urban living.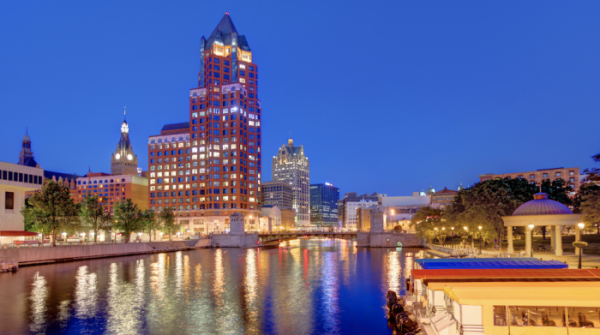 3. EASY AND ACCESSIBLE
Milwaukee is an easy city to get around. The metro area boasts of the best commute times in the country — 22 minutes each way — meaning that you won't be spending hours driving to and from work! Parking is seldom a problem.  And, if you don't feel like driving, the city is known for its walkable neighborhoods. From our Bublr bike share system to public transportation like the Hop streetcar and bus services, there are plenty of options to choose from. Mitchell International Airport continues to get new nonstop flights that make traveling in and out of town simple. You can also grab a quick Hiawatha train to Chicago to see Lake Michigan from a…different point of view!
4. MAJOR LEAGUE SPORTS
We might be biased (#FearTheDeer), but Brew City definitely has some of the best sports teams around! Since last year's World Championship win for the Bucks, our downtown entertainment center has grown and flourished. Known as the Deer District, it is lined with sports bars and restaurants where everyone gathers to watch their favorite teams (the Bucks and Brewers, of course.) For a change of scenery,  you can always head out to American Family Field to experience a good ole' Wisconsin tailgate. You're bound to be a cheesehead in no time, and trust us, once you're a cheesehead you never go back!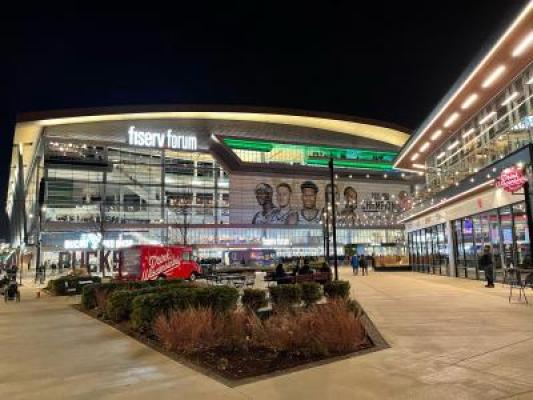 5. EXUBERANT NIGHTLIFE, ATTRACTIONS AND ENTERTAINMENT
Now we know that not everything is about sports, and we can assure you that Milwaukee is rich in cultural attractions, as well. From professional performances like the opera, theater, or symphony, to beautifully crafted public art installations, Milwaukee is home to a rich and diverse artistic community. One of our most popular events, Summerfest,  is the world's largest music festival and brings hundreds of headliners and local musical guests each year. With our wide array of artistic experiences, you'll find a new concert, gallery, or show to enjoy each weekend. 
6. RECREATION AND NATURAL RESOURCES
You might be fantasizing about a beach lifestyle, which is great because we've got it! Milwaukee is located on the western shore of the beautiful Lake Michigan, which brings us stunning views, smoother winters, and beautiful 80-degree summers. For a large, urban area, our natural assets are a defining part of our community. The lake, the lush landscape, and the river provide us with many ways to get out and get active. This could be a kayaking trip on the river or sailing on the lake in the summer, and with our four seasons, we haven't even touched upon the winter fun! We definitely take for granted the ability to go from sunbathing at Bradford Beach to skating at Red Arrow Park, all during the same year. 
7. RENOWNED LOCAL RESTAURANTS, CAFES AND BREWERIES
Cheese curds, custard, brats, and beer. The list of mouth-watering food goes on and on, and we're just talking about Milwaukee staples. Not only do we have a wide range of cuisine options, but there are options in every price range.  Milwaukee is home to several James Beard finalists, so casual or elegant, there is something for everyone! Start by trying a scoop of Kopp's frozen custard or a Sampler from Saz's (yes, that includes cheese curds, mozzarella sticks, and fries).
As you consider where you'll be starting your career, take a long, hard look at Milwaukee!  To learn more about what it's like to live here, and what you'll need to know as you settle in, fill out the form and request a copy of the Discover Milwaukee Relocation Guide.  Or, you can check out discovermilwaukee.com and read the digital edition. It will give you everything you need to know to call the Milwaukee area home!
If you're still on the job hunt check, consider these major employers in the Milwaukee area.  Visit their websites linked below to see positions that are available now!
MAJOR EMPLOYERS - MILWAUKEE